Share on Facebook
Prabhupada you came...
Prithuputra Swami was the 1st French sannyasi. He did a lot of service for the preaching mission. But after Srila Prabhupada's physical demise he left KC and reassumed a lifestyle he led before he joined - sex, drugs rock' n' roll. He never came back. Nevertheless, he never...
---
Beautiful Transcendental Qualities.
Last week a very great and dedicated devotee of Lord Krishna and Srila Prabhupada, Ajitananda Prabhu, left this material world. He is a very wonderful devotee and I've always looked up to him for guidance in Krishna Consciousness. He is like...
---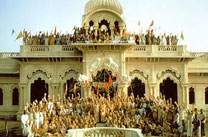 "I Am Living Proof".
Upendra Prabhu and I had just observed Nirjala Ekadasi in Sri Vrndavan Dham. It was June of 1977. The temperature was over 100. Even though we were young we became very weak and I could hardly stand up by the end of the...
---
An interesting story.
It was at 83 Hereford Street Glebe Temple near the Sydney Uni in April 1972 we began our preaching mission up North. There were 14 of us on the double Decker Bus. We had written in big letters on the side 'The Hare Krishna Movement, The Positive Alternative'...
---
Hasti Gopal memory.
In 1976 when Srila Prabhupada was in Toronto I went on most if not all the morning walks. It was in the early summer I think. The day we walked along the boardwalk down by Lake Ontario a funny thing happened. There was a wooden stand painted nicely that...
---
Prabhupada Arrives in Istanbul!
It started around winter 2006 when one of the local devotees wanted to have Srila Prabhupada here so much that she offered to pay half of the cost. So jumping at the chance of seeing this along awaited desire manifest into a reality, I immediately sent...
---
A last opportunity.
The year was 1977 and I had just returned to Vrindavana after visiting Jaipur. It was quite a decision to visit India since it was public knowledge that His Divine Grace Srila Prabhupada was traveling to the west even though gravely ill. It was a difficult decision ...
---
Whatever You Have Done.
Srila Prabhupada came to New York during the summer of 1969. At that time the devotees had already settled in to the new storefront at 61 Second Avenue (between 3rd & 4th Sts) after moving from 26 Second Ave. The temple room ...
---
Yes, I can see God.
One of the things that struck me the most about Srila Prabhupada when he visited the Mexico City temple for the first time, and the first time I saw him personally and got initiated by him, in June 1972, was during the engagement at the...
---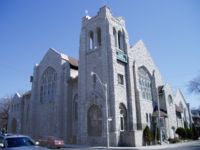 The year was 1976.
I was standing outside the temple along with my brother, Isavatara dasa, and another devotee when, accompanied by some of Iskcon's "big brass" of that era, Srila Prabhupada came down the stairs and walked towards a car. After they all had entered the vehicle, it slowly drove in ...
---