As in the material world
Details

Parent Category: Documents
Category: Various topics
Created on Friday, 06 October 2017 07:47
Last Updated on Friday, 06 October 2017 08:02
Published on Friday, 06 October 2017 07:47
Written by Aprakrita dasa
Hits: 334

---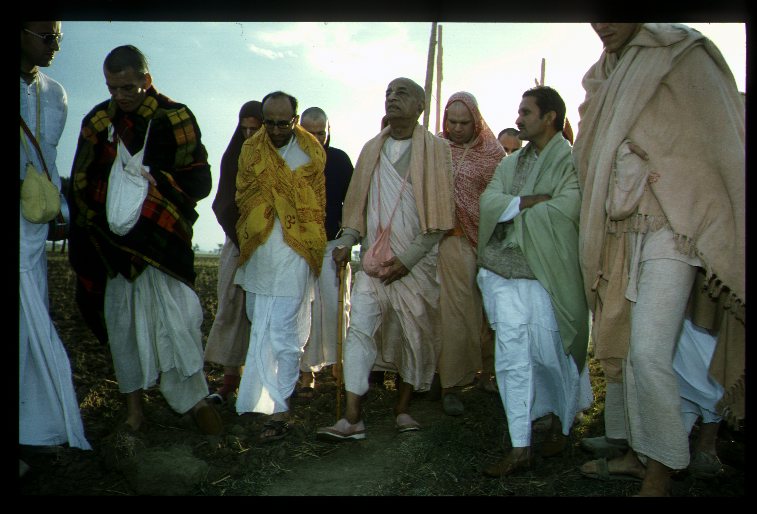 My Dear Gurudasa,
Please accept my blessings. I am in due receipt of your letter of July 28, 1969, and I could not understand from your half-finished letter whether Rathayatra Ceremony was performed according to a subdued program. But I could understand that you are immersed in great confusion on account of the wheels giving way just after starting. I have received one letter from Syamasundara. dated July 25th in which it is stated that the magnitude of the Ratha was double than the one you had in San Francisco. So such a heavy structure was not properly attended as to its weight and the wheels which could carry such huge weight. I think it was a mistake of engineering calculation. The load was heavier than the wheels could carry. So there is no question of being disappointed. I have not received any detailed information either from you or from the others, but even if the Festival was not properly performed, you should not be discouraged.
As in the material world sometimes failure is considered as a pillar of success, similarly in the spiritual order also the same principle can be applied. So don't be disappointed. Maybe Krishna's desire is something higher in this connection. If the Rathayatra has not been performed, you can postpone it to be performed on the Janmastami Festival. There is no harm if you postpone the function to a later date, and the public will appreciate it. You consult amongst yourselves without being discouraged and patiently work for its being performed one month later. There is no harm.
Jagannatha and Krishna are the same Supreme Personality. If it is Krishna's desire that He should enjoy the function on Janmastami Day, it might be He put some hindrance on the Rathayatra Day plans. So if you decide to hold the function on Janmastami Day, September 4, 1969, then on hearing from you I shall give you further instructions in this connection. But in any case don't be disappointed. Keep your enthusiasm. Be patient, and Krishna will reward your attempts with success.
Letter to: Gurudasa
—
Los Angeles
31 July, 1969
Compiled by Yasodanandana das
---
---
Hare Krishna Hare Krishna Krishna Krishna Hare Hare
Hare Rama Hare Rama Rama Rama Hare Hare
---