The Fruit of Love of Godhead
Details

Parent Category: Documents
Category: Various topics
Created on Saturday, 28 October 2017 07:46
Last Updated on Sunday, 05 November 2017 21:29
Published on Saturday, 28 October 2017 07:46
Written by Aprakrita dasa
Hits: 253

---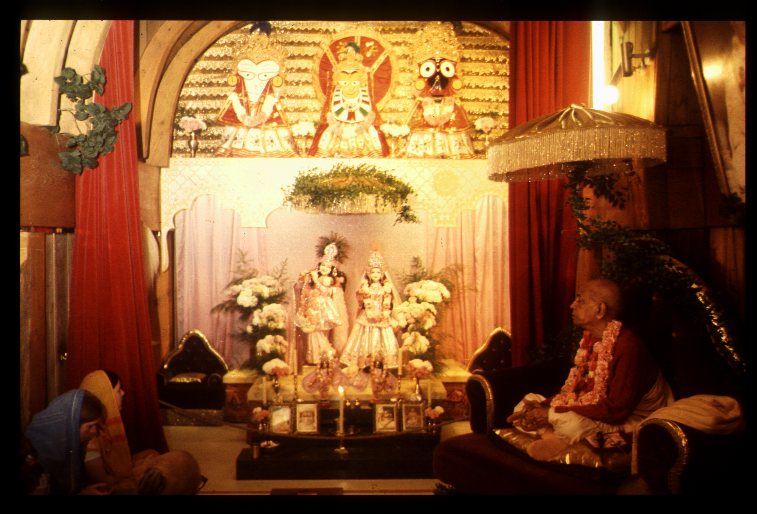 "Every living entity is wandering within this universe in different species and on different planetary systems according to his fruitive activities. Out of many millions of living entities, one may be fortunate enough to receive the seed of the bhakti-latā, the creeper of devotional service. By the grace of the spiritual master and Kṛṣṇa, one nourishes the bhakti-latā by regularly sprinkling it with the water of śravaṇa-kīrtana, hearing and chanting. In this way the seed of the bhakti-latā sprouts and grows up and up through the whole universe until it penetrates the covering of the material universe and reaches the spiritual world. The bhakti-latā continues to grow until it reaches the topmost planetary system, Goloka Vṛndāvana, where Kṛṣṇa lives. There the creeper takes shelter at the lotus feet of the Lord, and that is its final destination. At that time the creeper begins to grow the fruits of ecstatic love of God."

(Caitanya-caritāmṛta Madhya 19.155, Purport)

"The fruit of love of Godhead distributed by Caitanya Mahaprabhu is such a great intoxicant that anyone who eats it, filling his belly, immediately becomes maddened by it, and automatically he chants, dances, laughs and enjoys."

(Caitanya-caritāmṛta Adi 9.49)

"Here the wonderful fruit of love of Godhead distributed by Lord Caitanya Mahāprabhu is described. We have practical experience that anyone who accepts this fruit and sincerely tastes it immediately becomes mad after it and gives up all his bad habits, being intoxicated by Caitanya Mahāprabhu's gift, the Hare Kṛṣṇa mahā-mantra. The statements of Śrī Caitanya-caritāmṛta are so practical that anyone can test them. As far as we are concerned, we are most confident of the success of the distribution of the great fruit of love of Godhead through the medium of chanting the mahā-mantra—Hare Kṛṣṇa, Hare Kṛṣṇa, Kṛṣṇa Kṛṣṇa, Hare Hare/ Hare Rāma, Hare Rāma, Rāma Rāma, Hare Hare."

(Caitanya-caritāmṛta Adi 9.48, Purport)
Compiled by Padmapani das
---
---
Hare Krishna Hare Krishna Krishna Krishna Hare Hare
Hare Rama Hare Rama Rama Rama Hare Hare
---