| | | | |
| --- | --- | --- | --- |
| Two potencies of Maya - Ignorance and Covering | | | |
Algemene onderwerpen
zaterdag 26 juni 2010 06:56
There are no translations available.
Glories to Srila Prabhupada
Below are small portions of one very nice class given in LA Calif in 1972 by Srila Prabhupada.
He explains nicely how we get ourselves into this fix of the material world and how we ourselves make sure, by our desires,  stay here.
And thats ALL of us-- devotees included !!
-----------------------------
720818SB.LA                    Lectures                  
   So this is called maya.

Praksepatmika-sakti, covering

.
Avaranatmika-sakti, praksepatmika-sakti. There are two kinds of energy
of material, maya.

One is avaranatmi..., ignorance

. One is living very
condemned life; still, he's thinking, "I am very happy."
Or "We are
all right." So that is called avaranatmika, covered. Real knowledge is
covered. And another sakti is praksepatmika.
Praksepatmika means if
anyone tries to get out of this... Suppose our students are coming to
Krsna consciousness, somebody is coming to us, maya will dictate,
"Oh,
why you are coming here? There are so many restrictions and so rules
and regulations. Better give it up." "Why, yes, what is this nonsense?
Give it up." This is called praksepatmika. Maya is dragging
. Because
the more one is sinful, the more one is miscreant, the more one is the
lowest of the mankind, he, maya will not allow:
"Oh, why this rascal
is here? He must suffer under me for more..., some times more; then he
may be allowed."

That is maya's business. Thankless business

. Just
like police. Police is nobody's enemy, but when criminal, they punish
like that, put him in the jail and beats him with a rod. That is the
business of maya, thankless.
Nobody will thank police. When police
beats, nobody will, "Thank you very much." No. Nobody is happy.
Similarly, maya's business is very thankless task, but she is engaged
by the supreme authority to punish.
So, so long one is not conscious that "What is the position of my
life? What I am doing?" that is called knot, tied up very tightly. So
here is the medicine. What is that? Yad anudhyasina yuktah. Just like
if there is very hard knot, you take a sharp knife and you can cut it,
then the knot will open, immediately. Similarly, this knot, this
materialistic way of life, is very strong. Daivi hy esa gunamayi mama
maya duratyaya. And this knot is, the beginning of the knot is sex
life. Beginning of this knot. We are tied up by this sex life. The
lowest is the hog. There is also the sex life.

   So knot begins... Pumsah striya mithuni-bhavam etam. The world, we
are bound up within this material law of nature--why? Because we have
got strong desire for sex. Not only also human society, in animal
society also. The central point is sex. Yan maithunadi... These people
are working so hard because they have got the aim, "I will enjoy sex
life." Just like in your country, the hippies. They have given up
everything, but sex is there. They cannot give it up. They have
renounced everything, their father's property, their happy life,
everything, but the sex is there. They cannot leave it. That is the
central point of knot. "Where you shall go, sir? Here is your knot."
Therefore, this knot is very difficult to cut, but here is
suggested, "If you take this sword..." What is that sword? Yad
anudhyasina.
Always chanting Hare Krsna, Hare Krsna, Krsna Krsna, Hare
Hare. Hare Rama, Hare Rama, Rama Rama, Hare Hare. Take this sword.
This sword is only remedy. Yad anudhyasina yuktah. If you take this
sword, then karma-granthi-nibandhanam,
this hard knot of karma...
Karma means fruitive activities. I am doing something now, so I am
creating another body. If I am acting like a dog, then I am creating
another body, dog's body, hog's body, tree's body, or even demigod's
body. If you act piously,
then you create demigod's body.
Janmaisvarya-sruta-sri. But that is also knot; that is not freedom.
Just like you are American boys and girls. You are supposed to be born
of rich nation, rich father, than us Indians. We are born of poor
father. So...

But that does not mean that you are free from this knot

.
That is there. To become...

   People are trying that "We shall be happy by becoming materially
advanced." That is called durasa. That is hope against hope. Na te
viduh svartha-gatim hi visnum. They do not know that destination of
life is to attain Krsna consciousness. No. They do not know. They
think, "By increasing motorcars, we shall be happy." This is called
maya. That will not help. This motorcar civilization will be finished
within another hundred years. It has begun, say, for the last hundred
years, and after a hundred years, when... The scientists say the
petroleum will be finished within fifty years or like that, so, say
hundred years, this motorcar will be finished. So anything we
manufacture, the so-called empire, so-called material civilization; it
is finished, it will be finished. That is another knot only, that we
become captivated. So "What is this Krsna consciousness movement? We
must have three dozen motorcar and three dozen wine bottles and
this..." This is their civilization.

   So this is karma-bandhana. Narottama dasa Thakura sings therefore,
                 sat-sanga chadi' kainu asate vilasa
               te-karane lagila ye karma-bandha-phansa
This knot, karma-bandha-phansa. Sat-sanga, this is sat-sanga. This is
sat-sanga.
You are hearing Srimad-Bhagavatam in the front of Krsna and
practicing how to become pure. This is called sat-sanga. And
asat-sanga means this intoxication, illicit sex and drinking, so many
things, asat-sanga. The advertisement, "

Come on, here is cigarette,
'Kool,' make your brain cool." (laughter) "By smoking." (laughter)
Rascal. They think that "I am smoking..." How it can be cool? But they
purchase Kool. This is called maya. He's smoking fire, and he's
becoming cool. (laughter) And the advertisement is going on, and the
rascals are captivated by these advertisement, and they smoke, become
cool. Yes.

 ...So when actually one becomes intelligent, then the enquiry is:
"Why? Why I am put into this miserable condition of life? I do not
want this, and it is forced upon me. I do not want to die; death is
there. I do not want disease; the disease is there. I do not want
this; it is forced upon me. I don't want war, but they, the draft
board drags me to the war. Why these are?" This "why" question must be
there. That is intelligence.  And Sanatana Gosvami, when he approached Caitanya
Mahaprabhu, he also inquired this "Why?" Ke ami, kene amaya jare
tapa-traya. "Who am I? Why I am put into this miserable condition of
life?" That is intelligence. He was minister. He could understand that
"I am minister. People adore me as very learned man." He said that to
Caitanya Mahaprabhu. Gramya-vyavahare pandita, tai satya mani. "My
dear Lord, these common people, my neighbors, because I am minister,
and I'm supposed to be educated, I know little Sanskrit, I know little
Arabian language, they call me pandita, learned man, very scholar and
versed. I, to tell You frankly, I do not know what I am. So what is
the value of my education? I do not know." Ke ami, kene amaya jare
tapa-traya. "What I am."

   So this is called intelligence. And cats and dogs, they are
suffering; they don't mind. "Oh, I..." They forget. You have got
experience. A cat is coming to eat some milk here; you chastise,
you... But again it comes, again it comes. Because it is animal. And
the difference between animal and man is... Suppose there is very
palatable dish. So man, unless he is offered, although he is greedy,
although he is hankering after that food, but he's awaiting the
invitation, "Yes, you can take." But cats and dogs, without
invitation, catches. That is the difference between the man and
animal. Animal cannot control; man can control. Although he is hungry,
he can control, out of civility: "How can I taste without invitation?"
So that is the difference. Therefore, the conclusion is, man's life is
meant for control. Not like animal: "I want to eat, immediately catch
it." A cat and dog or a cow or a bull--rape. As soon as there is a
female, immediately rapes. So there is no punishment. But if you do
that on the street, raping, immediately you will be criminal. So that
is the difference. The inclination is there, both in the animal and
both and in the human being. But a human being supposed to be
controlled. That is human life. The more you control, you become
perfect. And though, the more you become loose, you are animal. That
is the difference.

   So they do not know. They want freedom. In the freedom, in the name
of freedom, they are becoming animals. That's all. This is the
civilization. But here it is said, kovida, intelligent. Intelligent
man should take up this sword to cut the knot of our attachment for
this material enjoyment. What is that? Anudhyasina. Anu means always.
Another anu means following. Anu means always, and anu means
following. Following means spiritual master or acarya. Acaryopasanam.
"How acarya, how spiritual master dealing, let me follow that." Or,
anu, as soon as he becomes accustomed, then anu, anuksana, always
chanting. Anudhyasina. Asina, asina means by sword. Anudhyasina
yuktah, karma-bandha-nibandhana. We have to cut up this knot of
karma-bandhana. By the karma-bandhana, we are transmigrating from one
soul, one body to another. This is not Darwin's theory. I am the soul.
I am changing, I am selecting my body, in this life. Not that by
nature there is a, I mean to say, gradual evolution. Not evolution, it
is already there. This living entity simply enters a particular type
of body. Actually, it enters, because... Suppose I am doing something,
my next life has to become a dog, that is my punishment. Then I'll
have to enter into the womb of a dog mother, and she will give me the
body of dog. Then I come out and enjoy like dog. This is the law. This
is the law. Not that my body is turning.

   So you can become dog; you can become (a demi) god also. That is stated in
the Bhagavad-gita: yanti deva-vrata devan pitrn yanti pitr-vratah. So
you create your body at the present moment. You have got the facility,
the human form of body. Now you can make your choice, whether you are
going to be dog or whether you are going to be (a demi) god. Both. Mad-yajino
'pi yanti mam. "Those who are devotees engaged in My devotional
service, they come to Me." And when you go to God, you must have a
body like God. Just like if you want to enter into the water, then you
must have a body like a fish. Otherwise you cannot enter into the
water. Similarly, when you enter the spiritual world, then you have a
body like God. And if you don't want, if you want to enjoy
unrestricted sense, then you take the body of a hog. So nature is open
to everyone. You can select your own. Not that you are forced. You can
have your... Therefore it is said, kovida, one must be intelligent to
select "What is my next life? How I can get out of?" That is the whole
instruction of the Vedas, how we can get out of these clutches of
karma-bandhana, the knot of karma, one after another.
Bg 3.41 T                     Karma-yoga                  
   Therefore, O Arjuna, best of the Bharatas, in the very beginning
curb this great symbol of sin [lust] by regulating the senses, and
slay this destroyer of knowledge and self-realization.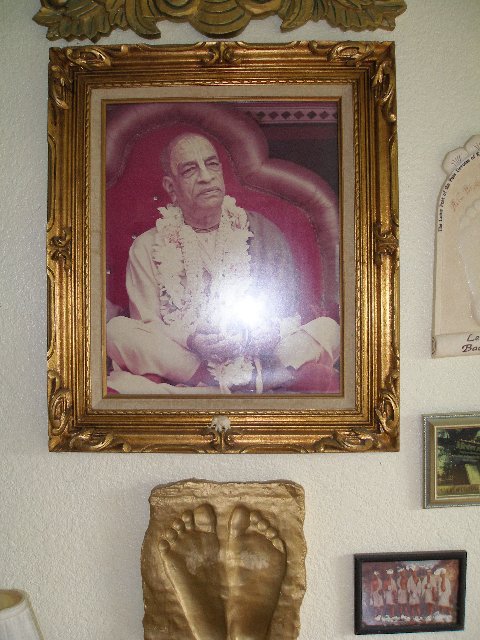 Written by :